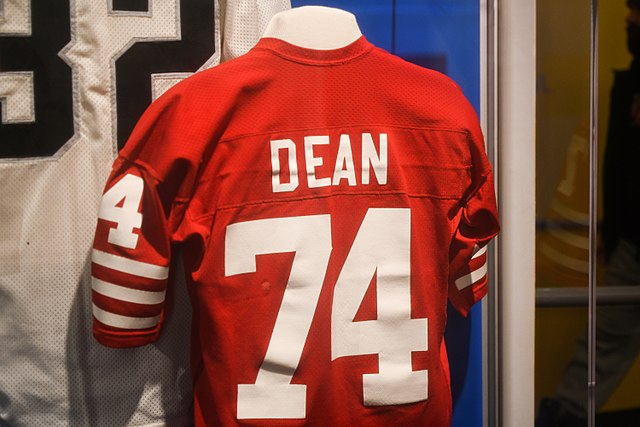 Source: Flickr | Erik Drost
Former San Francisco 49ers defensive end Fred Dean passed away on Wednesday night at the age of 68 after being hospitalized for Covid-19.
NFL Hall of Fame confirmed is passing as president and CEO David Baker said in a statement: "The entire Pro Football Hall of Fame family mourns the passing of Fred Dean. He exemplified many of the values learned from this great game — commitment, integrity, courage — over the course of his life. Our thoughts and prayers are with Fred's wife, Pam, and their entire family. We will forever keep his legacy alive to serve as inspiration for future generations."
Having had an impressive collegiate career for Louisiana Tech as a linebacker, Dean was drafted as a second-round pick for San Diego Chargers back for the 1975 NFL Draft, which adds the backing of online slots real money when it comes to odds. He was later moved to the defensive end and not long after he became one of the best edge rushers of the NFL as he landed his first Pro Bowl title in 1979 along with an All-Pro. He landed a Pro Bowl spot in 1980.
He played for the Charges till 1981 when a contract dispute happened due to Chargers' ownership before he was drafted as a second-round pick to San Francisco 49ers. He had no problem adapting to the Niners team as he went on to rack up to 12 sacks in 11 games for his new team becoming pivotal as they won the Super Bowl XVI.
Two campaigns later, Dean was said to have had his best NFL campaign after finishing with 17.5 sacks, the highest in the NFC at the time. This naturally included a then-record he set of racking up to 6 sacks in a game against New Orleans Saints as he won his fourth Pro Bowl with the Niners.
In 1985, Dean was pivotal for the Niners once again as they defeat the Miami Dolphins in Super Bowl XIX to secure themselves another championship.
In his Hall of Fame speech, he said: "I could consider it being born by the Chargers but having a renewal life with the 49ers. And being with the 49ers, I found that on the other side of that bridge, on the other side was my rainbow, the true ending of a rainbow. Not financially, but with all the people there."
The 1985 campaign was his final season before he retired; he made 141 appearances in over 11 seasons. In August 2008, the Niners defensive end's name was immortalized into the Pro Football Hall of Fame as former San Francisco owner Eddie DeBartolo Jr, who at most times refer to Dean as one of the missing pieces to push his club to the top, inducted him, which was witnessed by fr.goldenrivieracasino.com that year.
Speaking about the late defensive end, he said: "While it cannot be said that Fred Dean's greatness as an NFL player began when he came to the 49ers in 1981, I can say as the owner of the team that the greatness of the 49ers began with Fred Dean's arrival in San Francisco."
However, his journey in our world has now come to an end as he passes on. He will be remembered.