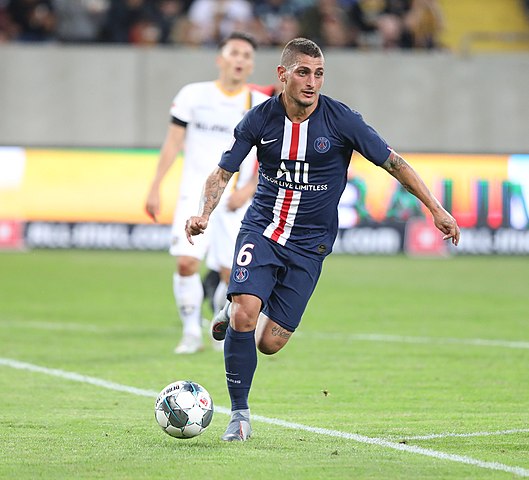 Source: Wikipedia | Sandro Halank
With the UEFA Champions League set to kick off next week, there have been some complications for Ligue 1 giants Paris Saint-Germain ahead of their clash against the English club Manchester United.
PSG coach Thomas Tuchel has expressed his concerns ahead of the clash as he claims that his team might only have 11 players fit for the Champions League opening match, which several high roller online casinos have place odds on ahead.
The French club was drawn along with United, German club RB Leipzig and Turkish club Istanbul Basaksehir for the group stages of the UEFA tournament, having progressed to the final for last season.
The Ligue 1 giants defeated RB Leipzig in the semifinals to reach the final but were unable to overcome Bayern Munich as they succumbed to a 1-0 loss in Lisbon, Portugal. They are back again in the UEFA competition as one of the strong contenders.
The Tuchel team will begin their 2020/21 Champions League campaign with at their very own home Le Parc des Princes as they host travelers Manchester United, who was responsible for their knockout in the round of 16 for the 2018/19 campaign, on Tuesday night.
Thomas Tuchel will be welcoming back his players back to the team after performing their international duties for their respective countries. However, the 47-year-old manager took to the media to admit that he might not be able to bring out his team full force against United as players like Marquinhos, Colin Dagba, and Julian Draxler are no doubts for the match.
He also confirmed the unavailability of Mauro Icardi, Juan Bernat, and Thilo Kehrer, speaking to reporters at a press conference, Tuchel said: "We have to take responsibility for Neymar and Kylian, who played almost 90 minutes yesterday, and the South Americans who have traveled a lot.
"Maybe we will only have 11, 12, or 13 players available.
"We have a bit of bad luck. Draxler and Marquinhos are doubtful for Manchester too. Colin Dagba had a positive [coronavirus test] with the U21s. In the event of a negative test, he can return to the group.
"Kehrer is injured for a few weeks. Bernat and Icardi are injured, Icardi, a week ago. It's the internal ligament in the knee, it's not too serious but he will miss Nimes and Manchester."
The German manager further confirmed that Danilo and Marco Verratti might just be on the sidelines for the match; as the former could be forced go into self-isolation in accord to the rules of Covid-19 having made contact with Cristiano Ronaldo in the Portugal camp, while the latter succumbed to an injury while playing for Italy, as choiceonlinecasino online casino tabled odds on different international level match before they were played this week.
He continued: "Today we have Danilo back, but he has been in contact with Cristiano Ronaldo, so the medical staff wishes he did not train with the group. Verratti was injured with Italy and is in contact with our doctor now.
"We are missing too many players. It is the challenge now to find a starting XI able to win [against Nimes] because that is the best preparation for Manchester."
Overcoming Manchester United in the Champions League opener will be a tough challenge for the Ligue 1 giants, but considering the availability of Kylian Mbappe and Neymar things shouldn't go that bad.