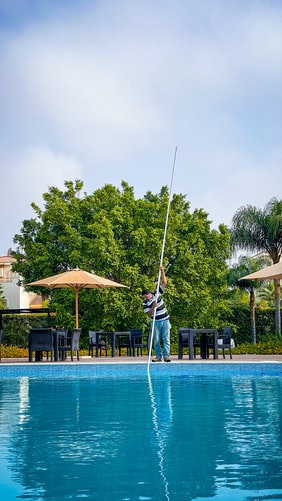 If you're an independent pool cleaner looking to take your business to the next level, you may be thinking about growth and expansion. Maybe you're considering adding employees, service locations, a storefront, and company vehicles. Business expansion and growth is an excellent way to make your business more profitable, but there are critical aspects of that growth that you need to prepare for before beginning. Commercial insurance is one such preparation, and should include general liability protection, business auto insurance, workers compensation, and tools coverage. Other options are available as well and can be quite beneficial to your company over the long term.
General Liability for Pool Cleaners
Pool cleaner's liability insurance provides several different important protections and benefits to your company.
Bodily Injury Protection – This helps your pool cleaning company by ensuring you don't have to pay out of pocket if physical injuries occur. Physical injuries can happen at one of your work sites or at your business location. A customer may trip across a hose one of your employee's is using, for instance, and need medical care.
Property Damages – This part of your policy protects you if someone's property is damaged on a jobsite or on your premises. If you drop a tool on the tile that surrounds a customer's pool, for instance, that tile may crack. A general liability insurance policy will pay to have that property repaired or replaced.
Products Coverage – Your general liability policy will protect your company from defective or faulty products, and problems with completed operations. Sometimes products are recalled due to problems, and sometimes they are simply incompatible with a customer. Your company may use cleaning chemicals that someone has an allergic reaction to, and they expect you to pay for the medical costs they incurred to care for that reaction. Your pool cleaning insurance will pay for those expenses, as well as any related legal costs and settlements that may arise in relation.
Advertising or Personal Injuries – An advertising injury is a claim that your company has harmed a person or company. This claim may arise if a competitor feels your advertisement slandered them or put them in a bad light. This part of your liability policy also protects your company against claims of copyright infringement.
Rented Premises – When your company rents or leases a building, warehouse, or shop for business use, you'll need rented premises insurance coverage. This protection ensures that if damage happens to the property while you're using it, the property owner will not be left to pay for the repair costs. General liability insurance for pool cleaners includes this as part of your policy.
Commercial Auto Insurance
As your pool cleaning company grows, so too will your commercial fleet. Whether you use one vehicle for your business or 100, commercial insurance is extremely important. The company transportation carries both employees and expensive equipment. If the vehicle is involved in an auto accident, the at fault driver may not have enough insurance to cover the full losses your company experiences. Commercial coverage can protect you from both uninsured and underinsured drivers so that you don't suffer the loss if this happens. Business insurance also pays for emergency medical care and hospital transportation if people are injured in the crash.
Workers Compensation
Most states require your company to carry workers compensation insurance when you have employees. This insurance protects both the employee and your company. It provides for emergency medical care if an employee is injured on the job. It also pays for hospital stays when needed, rehabilitation services, and job retraining if they're unable to continue working in the same field due to their injuries.
Pool Cleaners Tool Coverage
Tool coverage is commercial insurance that protects your company from financial losses due to tools being stolen or vandalized. This can apply to tools your company owns as well as tools or equipment it rents for business purposes.
Pool cleaning company insurance pays claims up to a specified maximum per claim, or up to a total amount regardless of how many claims you file. Speak with a professional business insurance consultant for specifics and to get your company protected today.